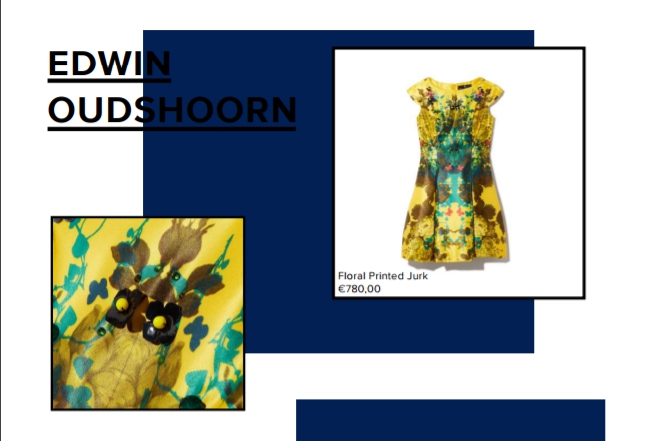 Dit zijn de modemerken van Hudson's Bay
Op woensdag 14 juni 2017 heeft warenhuis Hudson's Bay bekendgemaakt welke kledingmerken het straks gaat voeren in de Nederlandse warenhuizen. Dit zijn alle modemerken die tot nu nu bekend zijn.
Het is een enorme waslijst aan kledingmerken die Hudson's Bay heeft gepresenteerd. Zelf noemt het warenhuis als pronkstukken Topshop, Topman, CK Jeans, Opening Ceremony, The Kooples, Nike, Rika, Love Stories, MAC, Aveda, Vedder & Vedder, Vitra en Hay, in een persbericht dat op 14 juni 2017 is verschenen. Hudson's Bay wil zich met dit merkenportfolio positioneren als 'premium brand warenhuis'. Het assortiment is een mix van American premium brands, Europese merken en (inter)nationale upcoming brands, aldus Hudson's Bay.
Lokale klant
Niet elk filiaal heeft exact hetzelfde merkenpakket. Per stad is het 'toegespitst op de wensen van de lokale klant', of 'gast', zoals Hudson's Bay de consument noemt. De winkels zijn 'flexibel ingericht', waardoor ze 'continu kunnen worden aanpast om aan de wens van de gast te voldoen en te blijven verrassen'.
Merken en Nederlandse designers ontwerpen speciale limited editions
Een groot aantal van de (inter)nationale merken heeft speciaal voor Hudson's Bay een limited edition ontwikkeld. Deze items zijn onderdeel van The Limiteds-collectie, waarin de kleurstrepen van Hudson's Bay zijn verwerkt. Er is ook een aantal Nederlandse ontwerpers gevraagd. Onder meer Alexandra Frida, Edwin Oudshoorn, Fleur Goedendorp, Jordy van den Nieuwendijk en Tess van Zalinge hebben een ontwerp gemaakt.
Jacco van der Steen, Director Marketing en Inkoop Hudson's Bay: 'We werken nauw samen met de iconische merken uit ons brandportfolio. Zo heeft Karl Lagerfeld een tas ontworpen en is G-Star met een speciale Hudson's Bay-jeans in het assortiment vertegenwoordigd. Ook zijn er Limiteds van onder andere Zoe Karssen, Swatch en Vitra. Een aantal van de meest getalenteerde jonge smaakmakers uit Nederland is ingeschakeld om een ontwerp voor The Limiteds-collectie te maken. David Laport voegt een jurkje toe, Isaac Monté een gekristalliseerde vaas en Jordy van den Nieuwendijk een illustratie van zijn hand.'
Alle producten in de The Limiteds-collectie zijn in beperkte en genummerde oplage te koop. De collectie is te reserveren via de Hudson's Bay-app en beschikbaar in de winkels vanaf de officiële openingen.
App en club
Via de Hudson's Bay-app kunnen klanten dagelijks nieuws en verrassende updates over de winkels, collecties, feestelijke openingen en vacatures krijgen. Vanaf het najaar van 2017 krijgt de app ook een shoppingfunctie.
Via de app kunnen de 'gasten' bovendien lid worden van het loyalty-programma van het warenhuis: Club Hudson's Bay. Daarmee kunnen zij punten sparen bij aankopen in het warenhuis of via de webshop en app, die vervolgens ingewisseld kunnen worden tegen diverse rewards.
Officiele opening
Midden augustus opent Hudson's Bay haar eerste winkel aan het Amsterdamse Rokin. De officiële feestelijke opening vindt plaats op 19 september.
---
Kleding vrouwen
10 Days – 7 for all Mankind – Aaiko – Adidas – Adrianna Papell – u8AG – All Saints – American Vintage – Anecdote – Arma – Armani Exchange – Articles of Society – Atelier Gardeur – Axiome – Bella Dahl – Calvin Klein – Champion – Comma – Denham – Designers Remix – DKNY – Dr. Denim – Elka – Emporio Armani – Equipment Essentiel – Frame – Frisur – G-Star RAW – Guess – Hilfiger Denim – Hope – Hugo – Ichi – IKKS – Ilse Jacobsen – InWear – IRO – J-Brand – Just Female – King Louie – Koral Activewear – La Fée – Lee – Lois – Maison Scotch – Marc Cain – Marc O'Polo – Met Jeans – Minimum – Miss Sixty – MM6 – Modström – Moss – MSGM – Nike – Nikkie Plessen – NYDJ – Opening Ceremony – Opus – Paige – Paul & Joe Sister – Penn&Ink – Pepe Jeans – Polo Ralph Lauren – Puma – Raiine – Rains – Rebecca Minkoff – Rika – Save The Duck – Second Female – Stand – Sweet Pants – T by Alexander Wang – The Kooples – Theory – Tigha – Tommy Hilfiger – Twist & Tango – Under Armour – Vince – Whyred – Won Hundred – Zoe Karssen
---
Schoenen vrouwen
Adidas – Alexander Wang – Armani Jeans – ATP Atelier – Calvin Klein – Ca'Shott – Circus – Cole Haan – Converse – Cortica – Cruyff – DKNY – Floris Van Bommel – Gant – Garment Project – Geox – G-Star RAW – Guess – Hugo – Hundred – IRO – Karl Lagerfeld – Kendall + Kylie – Kennel & Schmenger – Lola Cruz – Love Moschino – MM6 – New Balance – Nike – Nine West – Opening Ceremony – Pertini – Puma – Rebecca Minkoff – Reebok – Sam Edelman – See By Chloé – Sorel – Timberland – Tommy Hilfiger – Tory Burch – Ugg – Unisa – Vans – Via Vai – Vince Camuto – Won Hundred
---
Bodyfashion vrouwen
Björn Borg – Calvin Klein – Chantelle – Chelsea Peers – DKNY – Freya – Implicite – Love Stories – Magic Bodyfashion – Maidenform – Marie Jo – Marie Jo L'Aventure – Passionata – Primadonna – Sapph – Schiesser – Shock Absorber – Simone Pérele – Tommy Hilfiger – Triumph – Under Protection – Vanity Fair
---
Beenmode vrouwen
Burlington – Calvin Klein – Falke – Happy Socks – Kunert – Oroblu – Royalties Paris – Tommy Hilfiger – Wolford
---
Kleding mannen
7 for all Mankind – A Fish named Fred – Adidas – Alexander Wang – All Saints – American Vintage – Amplified – Armani Exchange – Axiome – Ballin – Black Brown – Blue Industry – Calvin Klein – Casual Friday – Cavallaro – Champion – CK Jeans – Denham – Deus Ex Machina – Dockers – Dstrezzed – Elka – Emporio Armani – Essentiel – Fred Perry – Frisur – Geox – G-Star RAW – Hackett London – Hamaki-Ho – Hilfiger Denim Hilfiger Tailored – Hope – Hugo – IRO – Krakatau – Lacoste – Lee – Les Benjamins – Marc O'Polo – Michaelis – Minimum – Napapijri – Nike – North Sails – Ontour – Penfield – Pepe Jeans – PME Legend – Polo Ralph Lauren – Puma – Pure White – Rains – Robey – Save The Duck – Scotch & Soda – Strellson – Suit – Superdry – Sweet Pants – The Kooples – The Makers – The North Face – Theory – Tiger Of Sweden – Tigha – Timberland – Tommy Hilfiger – Under Armour – Uri Minkoff – Van Laack – Vanguard – Vince – Vive l'Homme – Won Hundred
---
Schoenen mannen
Adidas – Armani Jeans – BOSS Green – Calvin Klein – Casbia – Champion – Cole Haan – Converse – Cortica – Cruyff – Diemme – Fratelli Rosetti – Fred Perry – Garment Project – Greve – G-Star RAW – Hugo – Hundred – Lacoste – New Balance – Nike – Opening Ceremony – PME Legend – Polo Ralph Lauren – Puma – Reebok – Sorel – Timberland – Tommy Hilfiger – Ugg – Uri Minkoff – Van Bommel – Van Lier – Vans
---
Bodyfashion mannen
Calvin Klein – Claesen's – G-Star RAW – Hugo Boss – Levi's – Marc O'Polo – Ralph Lauren – Schiesser – Strellson – Tommy Hilfiger
---
Beenmode mannen
Burlington – Calvin Klein – Falke – Happy Socks – Hugo Boss – Ralph Lauren – Royalties Paris – Tommy Hilfiger
---
Kindermode
10 Days – Adidas – American Outfitters – Babyface – Bellaire – Bellerose –Björn Borg – Boumy – Brian & Nephew – Calvin Klein – Carrement Beau – Claesen's – Converse – Falke – Fred Perry – Garcia – Gosoaky – Guess – Happy Socks – Hugo Boss – Hust & Claire – IKKS – Imps & Elfs – Karl Lagerfeld – Lacoste – Le Big – Little Lovely Company – Looxs – Miss Grant – Monta – Nik&Nik – Nike – Noppies – Noukie's – Pepe Jeans – Rocking My Bae – Save The Duck – Scotch & Soda – Soft Gallery – Someday Soon – Sons&Daughters – Street Called Madison – Sweet Pants – Tommy Hilfiger – Trixie – Tumble 'n Dry – Vingino – Zadig & Voltaire
---
Horloges en sieraden
Adore – Alpina – Armani – Balmain – Baublebar – Bering – Blush – Boccia – Buddha to Buddha – Calvin Klein – Camps & Camps – Casa Jewelry Casio – Certina – Charlotte Wooning – Cluse – Daniel Wellington – Danish Design – Diesel – DKNY – Edox – Estella Bartlett – Fossil – Fromanteel – G. Van Leeuwen – GC Watches – Guess – Hamilton – Hugo Boss Black – Ice Watch – Jacob Jensen – Karl Lagerfeld – Kate Spade New York – Komono – Les Georgettes – MIAB Jewels – Michael Kors – Mondaine – Movado – Nixon – Obaku Denmark – Olivia Burton – Orelia – Paul Hewitt – Picto – Pulsar – Raymond Weil – Renard – Riverstones – Rosefield – Scmyk – Seiko – Skagen – Sotine – Swatch – The Boyscouts – Ti Sento Timberland – Timex – Tisso – Tommy Hilfiger – Triwa – Vedder & Vedder – William L. 1985 – Zag Jewels
---
Accessoires
Atelier de l'Armée – Barts – Birds on the Run – Calvin Klein – Champion – Gaucho – Hugo – Kate Spade New York – Le Bonnet – Ralph Lauren – Scotch & Soda – Stetson – Tommy Hilfiger – Uri Minkoff
---
Beauty
Acqua di Parma – Amouage – Armani – Atelier Flou – Atkinsons – Aveda – Benamor – Biotherm – Bobbi Brown – Body Shop – Bottega Veneta Bulgari – Bumble & Bumble – Burberry – Calvin Klein – Cartier – Chanel – Chloé – Cinq Mondes – Clarins – Clean Reserve – Clinique – Coach – Comme des Garçons – Coola skincare – D&G – Dior – DKNY – Dyson – Elie Saab – Escentric Molecules – Essie – Estée Lauder – Givenchy – Great Hair – Gucci – Hermès – Hugo Boss – Inkbox- Jean Paul Gaultier – Jo Malone – Kenzo – L:A Bruket – Laboratorio Olfattivo – Lancaster – Lancôme – Mac – Marc Jacobs – Marie Stella Maris – Miu Miu – Miyaki – Narciso Rodriguez – Natura Bissé – NDC – Nuxe – Paco Rabanne – Perricone – Pixi – Prada – Ren Skincare – Rituals – Sabe Masson – Sisley – Tabac – The Browgal – Thierry Mugler – Tom Ford Beauty – Tommy Hilfiger – Urban Decay – Viktor & Rolf – Yves Saint Laurent – Zadig & Voltaire
---
Tassen
Alexander Wang – All Saints – Armani Jeans – Atelier de l'Armée – ATP Atelier – Calvin Klein – Coach – Cowboysbag – DKNY – Fabienne Chapot Guess – Hugo – Karl Lagerfeld – Kate Spade New York – Kendall + Kylie – Lancaster – Liebeskind – Longchamp – Love Moschino – LXR & Co – Matt & Nat – Mees – Nan-Goods – Rebecca Minkoff – Rika – Tommy Hilfiger – Tory Burch – Vanessa Bruno – Vince Camuto – WANT Les Essentiels
---
Home & Textiel
#MyCalvins – Aquanova – Beddinghouse – Calvin Klein – Cawö – DDDDD – De Witte Lietaer – Essenza – Hugo Boss – Kaat Amsterdam – Kenzo – Lind DNA – Marc O'Polo – Oilily – Olivier Desforges – Pad – PiP Studio – Tommy Hilfiger – Vandyck – Walra – Zic Zac – Zone
---
Koffers
American Tourister – Eastpak – Elka – Fjällräven – Hartmann – Herschel – Lipault Paris – Property Of – Rains – Samsonite – Sandqvist – The North Face – Tumi – Vans
---
Cadeau-artikelen
&Klevering – Bloomingville – Broste – Dyson – Games Room – Gentlemens Hardware – Gift 4 You – Happy Plugs – House Doctor – Izola – Johnny Doodle – Kikkerland – L:A Bruket – Lexon – Marie Stella Maris – Me&Mats – Mendo – Men's Society – Meraki – Moët & Chandon – Moleskine – Moments Of Light – Monograph – Native Union – Opposuits – P&T Thee – Pouch Pals – Puik Art – Signature – Skinny Dip – S'well – Vitra – Vondels – W&P Design – Waterdrinker
---
Huishoudelijk
ADE – AdHoc – Amefa – Atelier du Vin – Aubecq – Ballarini – Barista & Co – Bialetti – BK Cookware – Bliz – Blomus – Bobble – Bodum – Boska – Bredemeijer – Catchii Contigo – Cuisipro – Demeyere – Design Letters – Emile Henry – Eva Solo – Fiskars – Fissler – Fontignac – Gefu – Iittala – Joseph Joseph – Kate Spade New York – Kenwood – KitchenAid – Le Creuset – Leonardo – Magimix – Oxo – Peugeot – PiP Studio – Point Virgule – Pyrex – Richardson – Robert Herder – Rosti Mepal – Royal Doulton – Sambonet – Schott Zwiesel – Screwpull – Smeg – Solis – Staub – Stelton – Tefal – Victorinox – Vitamix – Witloft – Zack – Zak! Designs – Zwilling